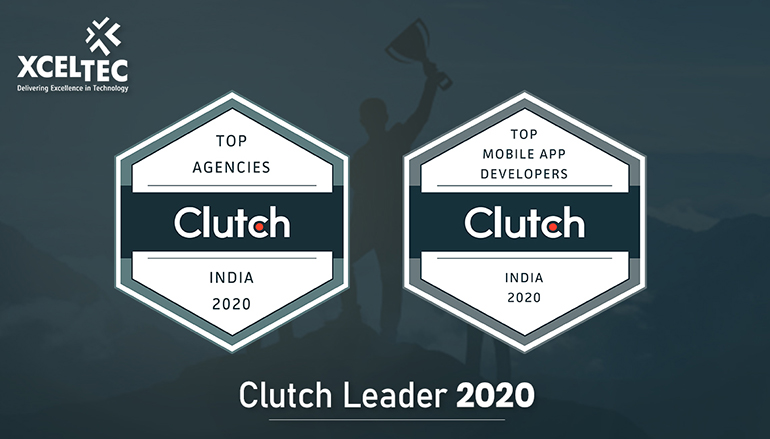 XcelTec Named Top Mobile App Development Company in India by Clutch (Industry Leader)
"We are very excited that XcelTec Interactive Private Limited yet another time has been featured as the leading Top mobile app development company in India (Clutch Leader) by Clutch."
See what Clutch Says about the news: Today, Clutch published its list of the 400 best mobile app development firms in India in 2020. India also contains a high concentration of mobile app development knowledge and skill. India's top firms offer their services both within their country and to customers around the world.
Mobile App Development Services
XcelTec subsidizes towards providing its clients with matchless mobile app development services. The company holds the knowledge of providing outstanding app development services to their clients, which have helped their businesses to boost their efficiency and productivity. XcelTec's team of app developers at XcelTec are always ready to help their customers in all aspects of the app development process.
The expert app developers at the organization developed mobile apps that are customizable according to the client's needs, and that can be used easily. TopDevelopers.co knows the custom app development services by XcelTec and listed us as the company among the top mobile app development companies.
XcelTec offers an industry focus development platform that ensures the digital transformation of the client's business in a clear competitive era. The clients get the benefit of the most capability-driven web development services. Our team of skilled web developers infinitely succeeds towards developing responsive, performance-driven and full-featured web and mobile API, which provides the ultimate user experience to our clients.
XcelTec's developers also developed ready to deploy and multipurpose applications. The team of developers at the company is well versed with all the major web solutions which have helped XcelTec to be listed among the Top eCommerce Development Companies in Australia.
E-commerce Development Services
XcelTec knows how a beautiful and functional online store can boost a client's business and so the company strives towards making, designing and building amazing E-Commerce portals. The team of experienced e-commerce developers at XcelTec understands the client's requirement and implement their ideas with their own thoughts and then build a website which fulfills all their needs.
XcelTec meets those client's needs by giving them a solution that is the customization of their state-of-the-art ideas. The company focuses on offering such an app or website to client's which drives their business to new objectives by attracting the maximum number of clienteles.
Clutch is an established platform in the heart of Washington, DC, committed to helping small, mid-market, and enterprise businesses identify and connect with the service providers they need to achieve their goals. Their team of analysts' interview service providers' clients to collect client feedback, analyze industry data, and compare competitors in a specific market to arm businesses with the information they need to connect with the right service providers.
We would like to thank Clutch for their value-free research and analysis which listed our company as a Top Mobile App Development Company in India. This gratitude makes us proud and enhances value to our efforts and hard work in the IT industry. XcelTec's profile on Clutch is the right place to know about us in brief. We found the platform a special medium where we can connect with our potential clients easily.
XcelTec is a company having a global presence, with offices in India, USA, UAE, Nigeria, Iran, and Australia. Our global presence has allowed us to understand the tones of the local market and cuisine to clients' demand in a better manner. In the past 4 years, we have grown into an 80+ employee organization and have served 300+ clients in the process. Well, from analysis to testing XcelTec helps the client recognize the whole end-to-end business process. We already have set our foot in major industries like Advertising, Healthcare, Media and Entertainment, Real Estate, Education, Life Sciences, Mobile and Wireless, Sports and Fitness, Finance, Hotel/Hospitality, Retail Technology, and many others.
Want to develop a custom web and mobile app? Contact us