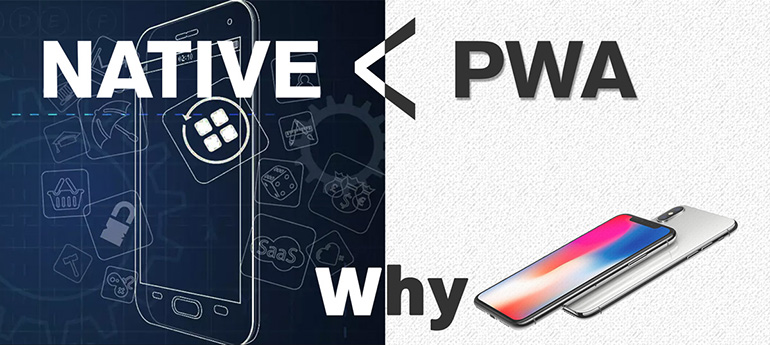 5 Reasons to Choose PWA (Progressive Web Apps) over Native App
We are living in an enormously competitive world where an only constant thing is "change". In the era of the digital world, A Mobile is the first thing with the people's morning to night. Each and every people have the Mobile Apps installed in their phones according to their choices and needs. Year by year people is spending more time on Mobile devices to access the internet. Website and mobile app development companies are excited about this prospect in 2019 as the chance to achieve these mobile users is still is getting larger.
There are few ways to create a mobile presence that going to let your user access content on mobile. A responsive web design that allows the users to connect with a website and a second is Native Mobile App that user can download from the mobile app store and add to their devices. Now, we're looking at the arrival of PWA Progressive Web Apps to the pitch, which takes a move toward central between mobile websites and mobile apps.
What is Progressive Web Apps?
A progressive web app is the amalgamation of mobile site and websites, built with a modern JavaScript framework and specially designed to look like a native app that brings features of both and gives an amazing user experience. PWA development has to establish for meets the basic requirement of native to give an app like feel to the users. PWA can be added to a mobile devices home screen with an icon. Like an app, they give the full-screen user experience.
Progressive web apps are just like a website when opened. PWA Progressive Web Apps is a set of different technologies, designing concept and web API through which can get an app like experience on a mobile web browser.
6 Reasons to Choose PWA Progressive Web Apps over the Native App
Responsive: Progressive web apps PWA are totally responsive and a great fit for any devices like desktop, tablet, and mobile devices.
Updated: Progressive web apps PWA are always up to date with the latest code. We don't need to update the app versions like native apps for small changes. Whenever you upload a new updated code it directly syncs with the user devices.
Secure: PWA is constantly serving using HTTPS (HTTP will fighting fit in a development environment). So no one can encroach without right authentication.
Easy to Find: Using employee registration scope of PWA progressive web apps allows a search engine to discover them effortlessly.
Push Notification: PWA has push notification functionality so the user can easily connect with the applications.
Easy Installation: Progressive web apps are very easy to install. Just open website – add to home screen. By this website will access from home screen without any hassle go to app store and download it. Then install and access it.
Connectivity Independence: Using service workers, you can access PWA on slow connections also and you can also use it offline.