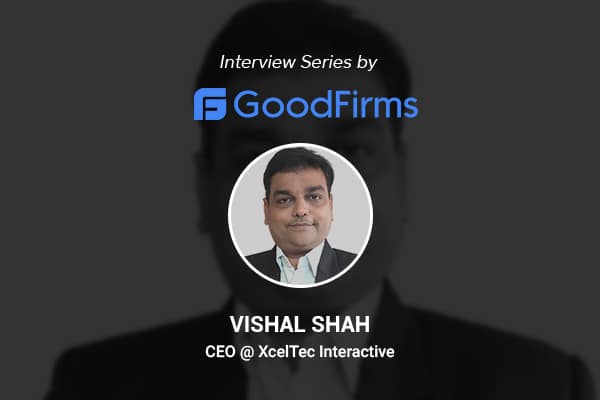 As CEO of XcelTec, Vishal Shah Is Leading the Digital Industry with an Unparalleled Strategy of Expansion
About XcelTec : 
Incorporated in 2016, XcelTec Interactive is an enterprise solution provider in outsourcing and offshore software development. Based in Ahmedabad, India, the company mainly serves its clients from countries like the USA, Australia, and European regions. The professionals at XcelTec Interactive hold expertise in Microsoft technology, E-Commerce, Mobile Commerce, Mobile Development, and Open Source Technology.
With a mantra of "Delivering Excellence in Technology," experts consistently transform clients' needs into innovative & worthwhile solutions. Moreover, the organization maintains transparency, satisfaction level & integrity and offers its valuable clients solutions built on the pillar of work ethics & continuous innovation.
GoodFirms Interview Process
The GoodFirms team interviewed Vishal Shah, the CEO of XcelTec Interactive, who takes great pride in saying that, "we are leading successfully on the way of our mission." The professionals support forthrightness and provide the clients with the utmost satisfaction with reliable products created on a mainstay of work ethics along with constant improvement.
"At our organization, the experts' group is well aware of the consumers seeking personnel who can fully grasp their issues, and smartly come up with robust tech solutions," says Vishal. XcelTec's specialists recognize the clientele's intentions and support them by making their business processes smooth and flawless.
At XcelTec, the profound experts' group adopts exceptionally specialized systems and practices. Moreover, the organization stands unique amongst its competitors due to its customer-friendly attitude, receptiveness, and innovative consumer-oriented services. "As the CEO of XcelTec, I oversee the business part like Sales, Account Management, Delivery Aspects, and Strategies for developing and expanding the company globally," – says Vishal However, passionate about technology and coding, Vishal is always anxious to provide his inputs that help the project management and operation team.
Further, continuing with the interview, Vishal elaborates more on the services catered to its clients in different geographies. He starts with app development services, in which the group of experts with their skills and experience proffers to the customers with robust enterprise app solutions.
It is essential for any business to pace-up with the day to day changes in technology and its ever-changing rule. Hence, at XcelTec, the experts provide a verity of mobile enterprise solutions to assist clients and make them stand at the top of their business market.
Build the Right Solution for Mobile App Development
Boost Any Brands with Right Marketing Strategy