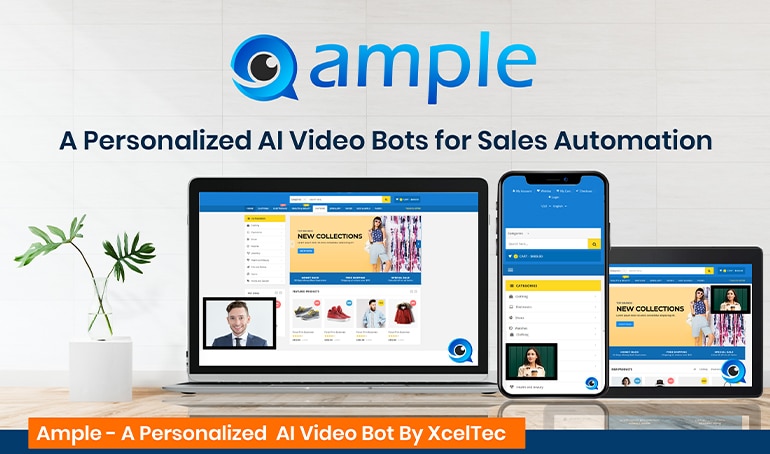 Ample – A Personalized AI Video Bots for Sales Automation
XcelTec developed the next generation Chatbot that is AMPLE – an AI-driven Video Bot – to help really connect your business to the market. AMPLE bridges the gap between the two by allowing the consumer to speak through a video chat & screen sharing with your sales and customer service teams.
Chatbots and artificial intelligence that two are the most powerful weapon for any business. Businesses using Chatbot technology today to enhance the customer experience, save money & for sales automation.
Sales automation has to be the talk of the town nowadays. Chatbot has proven its ability by providing instant support and personalized services for some cases. Chatbots are very helpful for solving customer queries, typical service requests, or locating the right products and services, but their effectiveness can be increased even more with video.
A video bot is an improved version of a chatbot it is a video of a person that shown to website visitors through the chatbot. it improves customer support & personalization as well as improves the conversion rate as they are drive users to take action, whether on the website or on the app.
Sales Automation & Video Bot
What is AMPLE?
AMPLE
: A
personalized AI video bot
developed by XcelTec, With ample you just need to go to the
website
or app & sales representative guides you for your desired products by screen sharing through video bot and easily you can buy any products from the ease of home. No need to go to shop or surf more and more that works for everyone and saves time
Video bot does not only guide the customers but that helps businesses to sell more and improve brand loyalty, customer relationships and interact with customers in a way they thought was relevant to them, but new tools like chatbots (AMPLE) surely have taken personalization to the next level.
Let's Understand How Ample Works:


Why Video Bots are The Feature?