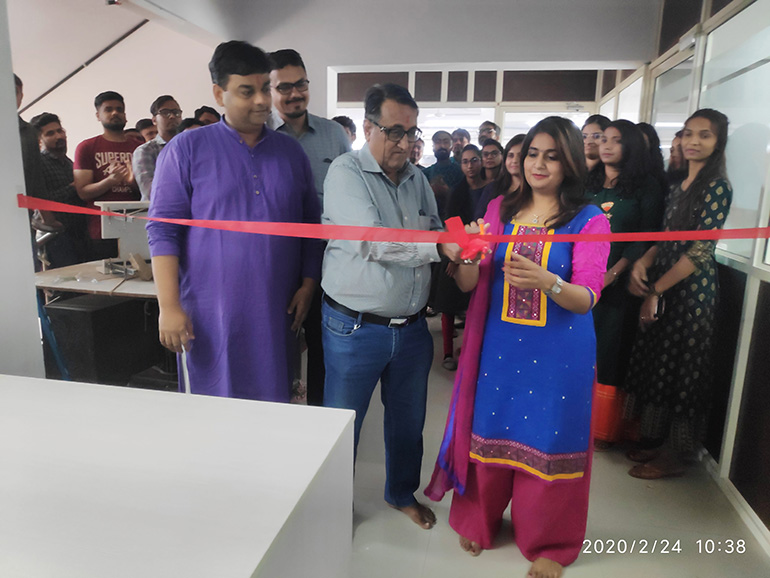 We Have A New Workplace & New Address – A Journey to XcelTec's New Office
New Office, New Culture, New Thoughts, New Place, New Success Stories, and the New XcelTec.
As we all know that employees spend half of the day or more than half of the day spend on their workplace. And exactly that is our goal when we consider our new workplace. We added each section that makes our employees comfortable and can work spontaneously in our new workplace. Let's check the journey of XcelTec's new office.
A Brainy Man – Who Make the Best IT Company (XcelTec)
It's the entrance point – The Reception Space
A reception area is a place that shows the impression of any business. The reception area is the place where the visitors are first familiarized with our space and where the team logs their daily entry and exit time. The visitors who come to meet the owners, CEO or any employee or candidate who come for an interview can make themselves relaxed in the reception area. So we give it a simple and rich touch by decorating it with alluring balloons and brand logo to the wall & door so any people who come to us know about our brands.
Our Development Area – A place where creativity and innovation comes together
Our conference room is a place where new thoughts are produced and important meetings and many more important business things done. It's the place where we virtually meet our global clients by conducting meetings and calls. Also, we have to plan some best moments of our celebrations to cherish our employees.
Conference Room – A place that brings innovations together
XcelTec is home to some of the talented, brainy and best professionals on the technology area who help talk unique business challenges for enterprises. Right from plan to implementation we are the leaders of technology and innovation building a high trust workplace culture strengthening our values of making an atmosphere where employees feel trusted and valued.
The Man of XcelTec – The CEO's Cabin
Woohoo!!! So, this' our director's cabin. It is part of the office, where every employee is connected. It is designed in the most attractive way where the wall contains attractive colors and designs. The comfy sofas and the cool designs give a relaxed and classy look to the CEO's cabin.
HR Cabin – A Center of a Connected Work
HR cabin is the place where all employees have passed through before joining XcelTec. We have designed an HR cabin in a comfy look as well as an interview room so that the interview process can go effortlessly.
Start your career with XcelTec
All well-maintained office makes a touch of a second home to the employees. The office as a second home for each team can function as a happy and motivated unit. Our new office is a perfect combination of comfort, inspiration, innovation, positive vibes, and energy.
Currently, I am setting in our new office writing the blog and feel like I am reliving all those moments. I trust the XcelTec will archive numerous such lovely achievements in the upcoming future and many more marvelous branches will continue adding to this.
Hence the spirit of each individual contributor within the floor and offshore make us the perfect Web & Mobile App Development Company of our loyal clients. If you are ready to get the best experience and want to grow yourself then Join Our Team.
Want to join our team? Apply here!