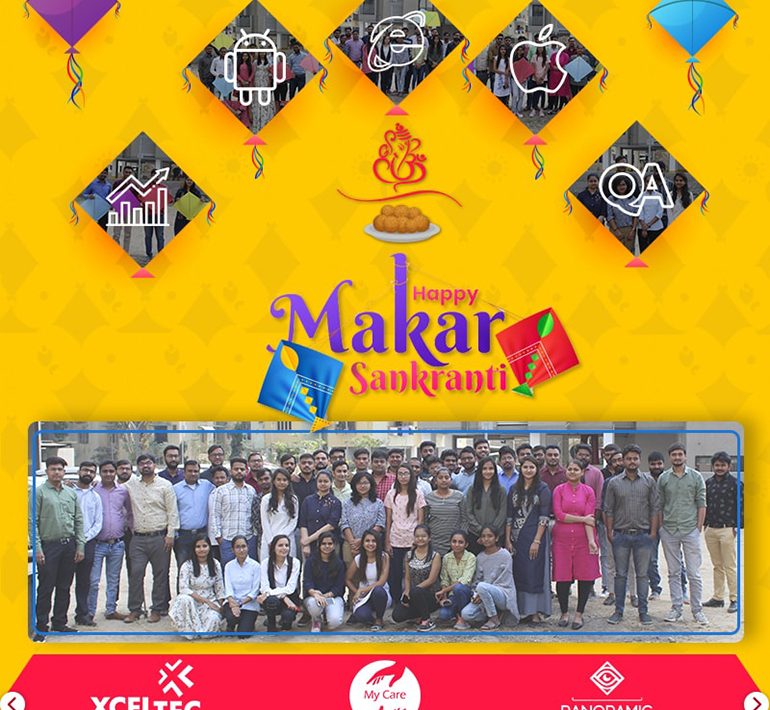 Uttarayan (Kite Festival) Celebration at XcelTec
Hard work deserves recognition. Even better, it calls for a celebration.
Every day, employees use their expertise to help build a better company, and they should be acknowledged along the way. XcelTec value their employees and to shows the gratitude to their employees, XcelTec organizes a Team Lunch Party on the Uttrayan festival. Our team is living and loving XcelTec life. Here at XcelTec, it's not just about the programming, projects, and deadlines. It's also about weekends and celebrations. We know the importance of special days, festivals and celebrate it to the fullest.
XcelTec is a 4 years old software outsourcing company with 3 states of the art development centers in (India, Iran, and Virginia) and 400+ clients across the world. Headquartered in Ahmedabad city, Gujarat. A few of our technical expertise includes Web development, mobile app development, IoT development, Blockchain, cloud consulting and agile project management. We empower organizations across the world to build the software development teams they need through a sole engagement model – virtual employees.
We are the code troopers. XcelTec is all about enabling small and medium-sized businesses on their growth trajectory with a top-notch dedicated global team of employees and virtual employees. We have 80+ highly skilled code artists at our India development center. We follow the sole engagement models that allow business owners to bring about productive change in their respective domains. We are programmers, trendsetters and idea creators who use the next generation technology to streamline the complexities.
XcelTec is home to some of the talented, brainy and best professionals on the technology area who help talk unique business challenges for enterprises. Right from plan to implementation we are the leaders of technology and innovation building a high trust workplace culture strengthening our values of making an atmosphere where employees feel trusted and valued.
What You Will Find With Us?
Ours is a culture that holds diversity and allows uniqueness. We believe more in high-act than hierarchies. This open-door policy means that you will have a guiding hand with you at all times. What's more, is that we let you take responsibility for your actions with the freedom to decision-make.
We welcome new joiners and make them comfortable with our system and engagement model. Yes, we support you through the initial phases until you blend into our business; and until your colleagues become your friends.
Our selection process aims at onboarding employees that are technically/functionally capable. We're looking for self-starters who have an accomplishment attitude with a strong value system and superb work ethics. We believe that leaders can be made and thus we allow our teams to have stand-alone thinking and a creative vision.
If you love to code, transform, build, giving effective solutions, solve problems – all implementing the latest technology frameworks for global companies, then you'll fit right in.
Experience XcelTec's culture we celebration our company's diversity. We actively celebrate festivals and team event with countless dedication and enthusiasm that truly treasure the values and vision of the company
Find your dream job, chase change, confront limits and join our team