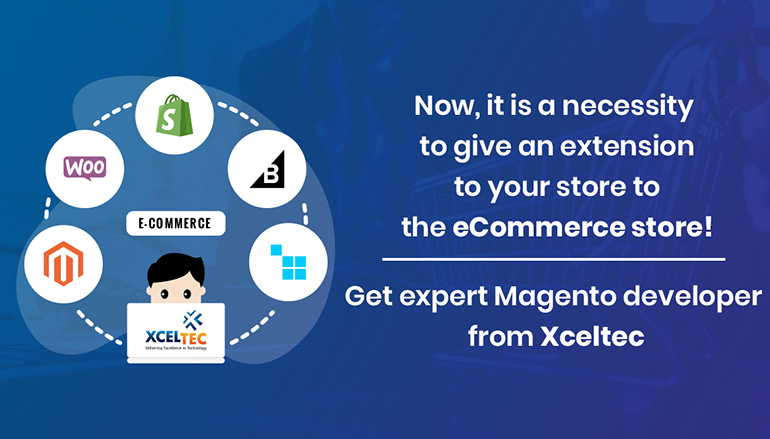 Hire Expert Magento 2 Developer from XcelTec for Your eCommerce Needs
The coronavirus pandemic has overturned plans all over the globe in the past few months — it changed the way of lifestyle in every country. In general, during the coronavirus, eCommerce seems to be in a fair good spot. After all, people that can't go to shops for buying may turn to online shopping.
In some states government announces, mandatory shut-downs of needless storefronts just went into place last days. This situation may lead to a larger uptick in the eCommerce business for some verticals.
Ecommerce and Coronavirus
Ecommerce has proved itself a necessity in days of social distancing and shut-down storefronts. In the time of lockdown, online shopping is a great way to get the required stuff without stepping out from home. Between obeying social distancing guidelines and store shutdowns, Almost shoppers seem to have taken much of their business online. And some shoppers think to start their online eCommerce business.
For those who want to start, manage & maintain their online business, XcelTec is the right choice for you. We have a briny team of Magento 2 developers who helps you even in this pandemic situation. We are your perfect partner that can easily manage your day-to-day services. Our virtual employees / dedicated team are specialized to serve world businesses in this critical situation.
Why Choose Magento 2 for eCommerce Online Business
More and more online business owners prefer to build their websites on Magento 2 because of its advanced features, diversity, and flexibility. Besides, there are also a lot of other reasons which enliven store owners to select Magento 2 as their platform instead of other ones and prove that Magento 2 is suitable for their final decisions. Before auditing the reasons why choose Magento 2. Let's look deep down for what Magento 2 is.
What is Magento 2 Development?
Magento is an open-source platform. First of its version for online stores, which served well for around 8 years. But with the increasing online user base, the need for business evolution with better performance became essential which was not so easily met by the use of Magento 1. And so in 2015, Magento 2 was released as it's subsequent to meet the rising needs of the businesses. Thus Magento 2 is the latest version of the e-commerce software from the Magento family which aims in rectifying the speed and performance offered by various other high-level features and thus amending conversion rates for the online stores or online eCommerce businesses.
As you can see, many popular business groups choose Magento 2 as their first choice for the eCommerce platform to share their business websites.
So what are the reasons that attract these well-known popular enterprises to select Magento 2 as a suitable choice to serve millions of consumers over the years? And what are the reasons for picking up Magento 2 from among dozens of other platforms?
Here's are the reasons that Magento 2 is best for eCommerce
Advanced scalability and performance
Highly compatible
Easier checkout process
User friendly
Supports mobile commerce
SEO friendly
Easy integration with third-party services
Why Choose XcelTec for Magento 2 Development?
XcelTec serves the best E-Commerce solutions with Magento 2 development for all sized businesses. With strong expertise and a successful project delivery record on the systematically developing open-source eCommerce platform on Magento 2, we at XcelTec assure you to deliver the best Magento 2 services with 100% client satisfaction. Services we offer in Magento 2 Development:
Magento 2 Store/Website Development
Magento 2 website Design
Magento 2 Theme Development & Customization
Magento 2 Extension Development
Magento 2 Third-Party Integration: EPR system & Business Interface
Magento Migration: Magento 1 to 2 – other eCommerce platforms to Magento2
Hire Expert Magento 2 Developer from XcelTec
For any retailer/wholesaler businesses, making an eCommerce website is not optional, is now mandatory. For making an eCommerce website, we at XcelTec have the experience and know-how to make any website depending on your needs. We use shopping cart software like Magento 2, X-cart, CS cart, WooCommerce, and others to give you a truly professional website that can get you conversions from the day it goes live. You can hire eCommerce developers from us on a project or a monthly basis.
The foot line is that no one can predict exactly what will happen in the feature; the volume of impact from coronavirus truly is not assumable, No longer does anyone has the choice to be fully proactive — we all have to react in real-time to changing information and situations around the world.
Now is the time to make small adjustments in response to the shifts in customer needs and behavior, while also get ready for a return to normal. Above all, stay positive and think strategically, and you can help your business weather the storm.