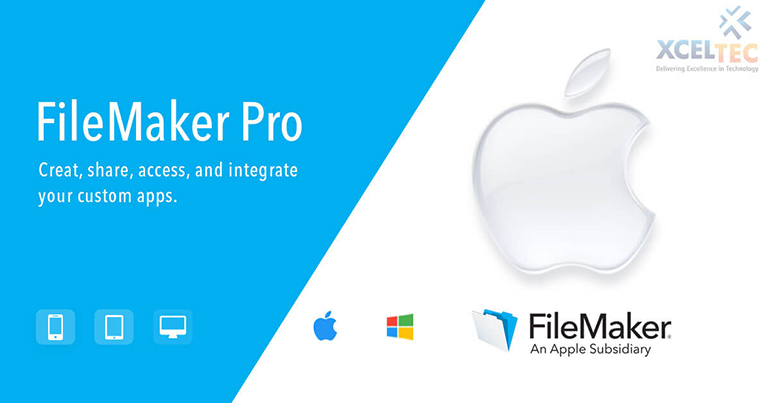 Why FileMaker Pro Becoming So Popular for Custom App Development
FileMaker Pro is a cross-platform database application program developed by the subsidiary of Apple Inc. (Claris International). FileMaker Pro is a mixture of a database engine with the GUI (Graphical User Interface) that allows users to organize the data into screens, layouts or forms and manage contacts and projects. At first, the FileMaker Pro was designed to work with Apple computers but then it also available on windows platform.
The important aspect of FileMaker Pro is that users do not need a programming skill to use it. It consists of more than 30 integrated starter solutions that help App Developers or users to rapidly handle the important task.
FileMaker Pro's Capabilities & its Features:
Some of FileMaker Pro's Key Capabilities Include:
Why Choose XcelTec for FileMaker Custom App Development?
Services We Serve in FileMaker Pro:
Ability in latest development technological trends
Keep off unplanned costs
Strictly follow the project target & deadlines
The project Scalability is beyond comparison
Resource flexibility
The team is reachable irrespective of time and place
XcelTec Developed POS System with FileMaker Pro
We were approached by the client to make an app that manages the POS System according to the new tax changes in Fiji country. Recently the Fiji government made some changes in their tax system so his thought was to manage the software applications or hardware devices whose main function is to safeguard an invoice in offline mode and deliver audit packages to Tax Service. From the technical point of view, they need a middleware component that connects the POS system to secure element and enables standardized communication with Tax Core Backend API. XcelTec fulfills all the requirement of the client by giving them a beautiful Full-featured POS system that manages the Tax calculation automatically and reduces the manipulation of tax.
Some Features that we integrate into our developed FileMaker POS system
Generate Invoice Automatically
Multiple sales reports complete with graphs and charts.
Simple interface for sale transactions
Easily find items and add them to the order.
Automatic billing counting
Want to Develop a FileMaker App?
The FileMaker app became a sudden success among its users. If you are in the hunt for the same kind of mobile app (For iOS and Windows) such as shopping mall, groceries shop, clothing store or much more then XcelTec is a one-stop solution for you.