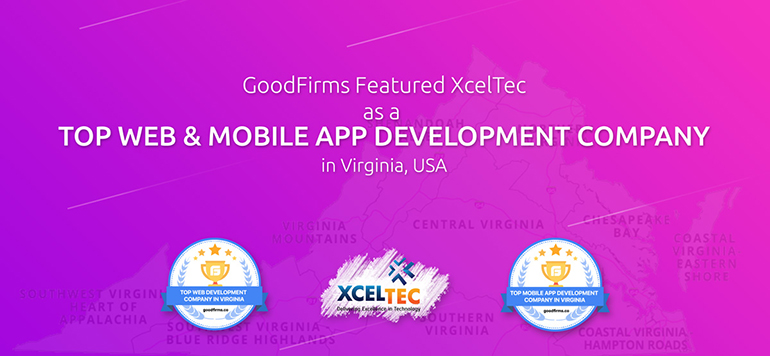 GoodFirms Featured XcelTec as a Top Web & Mobile App Development Company in Virginia, USA
In the era of advancements, mobile technology also become extensive, and client requirements are also changing. And, it is extremely challenging for app development companies to meet the actual needs and satisfy the clients. But it seems that XcelTec, a web, and mobile app development company has the quality to deliver high-productive and cutting-edge mobile solutions that meet the perfect needs of clients.
What made GoodFirms rank XcelTec in the list of top mobile app development companies-USA?
XcelTec is one of the leading Web and Mobile App Development Companies that deliver a wide range of mobile solutions for various industries. It is headquartered in India with the presence in Virginia, NewYork, Iran, Nigeria, UAE, and Australia. The company was established with a motive to "Delivering Excellence in Technology" with innovative mobile solutions without compromise on standard and performance.
for the time of exploration, it was also found that the XcelTec team follows a drastic app development life cycle which includes thought process, brainstorming, formulation, designing, developing, testing and deploying. The team of talented employees is sharp, brainy and skilled, always ready to bring out innovative solutions and provide an unequaled experience to the clients. Over these years through the innovative development and world-class consultation, XcelTec has achieved great success.
Glimpses of Clients Reviews
"It is a pleasure to work with Xceltec for our B2B projects. They work extremely hard to please a customer. A team is very competent and delivers all committed deliverable on time. I definitely recommend them for any Web, Mobile, and IOT projects."
XcelTec Services Focus Area