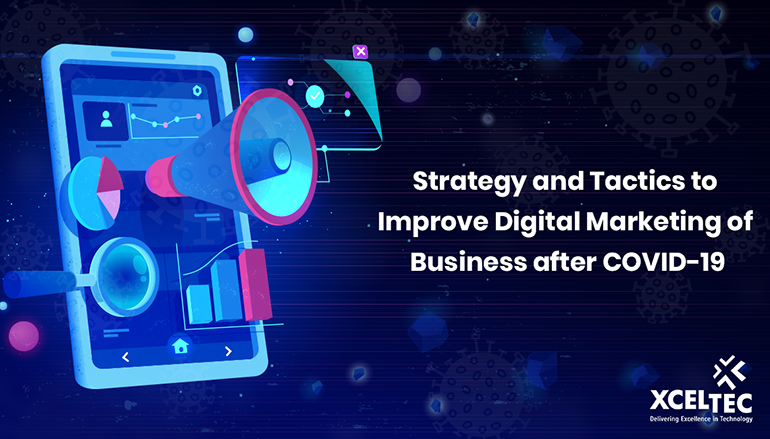 Strategy and Tactics to Improve Digital Marketing of Business after COVID-19
Coronavirus outbreak has impacted almost businesses across the world. Almost business professionals conceive about the strategy for resume & improve their business after COVID-19 crises. COVID-19 has become a pandemic; the unemployment rate has increased as businesses need to shutter their doors for the shake of public health. It is definitely a stressful time & especially for small businesses that have smaller resources to sustain them.
If you checked your mailbox recently you have found & noticed that many businesses sending the notification that how to improve business after COVID-19. Of course, not all businesses are in a position to adapt the sudden changes. Of course, not all businesses are in a position to be able to adapt to the many changes, and there are remarkable impacts for many.
Once the lockdown ends, we will need to take a number of steps to make sure that workers are safe & active to restart the business. Is your business affected due to the COVID-19 outbreak? Are you looking for ways that you can adapt to the situation, and help to keep your business afloat? A team from XcelTec shares some great Digital Marketing Strategy that helps to restart & improve your business after COVID-19.
The first thing Stay Positive & It's Going to Get Better
Connect With Your Customers on Social Media During a Critical Time
We're all dealing with the effect of coronavirus outbreak. It has an impact on our lives whether you've tested positive or not. We're all taking the safety. We're locked in our homes and kids aren't in school. We can't visit our friends &many more things we can not able to do this time.  This is a time to really show sympathy to others and help out to needy one. This is a time we all need to be sensitive – but it's a great opportunity for your brand to stand out during a difficult time. More people are on social media now while locked at home, searching for updates and trying to stay connected in a quickly isolated nation. Also, promote your good deeds with social media marketing to help build your brand.
Make Sure Your Business Can Be Found Online
If you have noticed, more people are online right now than walking on the streets or riding bicycles. Search traffic has increased outstandingly over the past week. We are all busy with our computers and phones looking for updates within our areas. For many, that includes online shopping.
Because of lockdown anything online right now will be used more than ever before. This is not the time to be online. You should be using search engine optimization (SEO) strategies to the top of Google's search engine results pages (SERPs). That way your business can be easily found online.
Pay-Per-Click (PPC) Advertising is a Smart Move Right Now
With more people at home & in front of their screens, it's a huge chance for organizations or businesses to use PPC marketing to connect with their customers and gain a proficient advantage. Also, it's a great time to save some money within your digital marketing budget. That gives your business another opportunity to lift out that lost market share from others twitching back during this time.
Just be sure to adjust your strategies and marketing. Meet your customers where they are now (and that's mostly at home and online). Find a way to pivot and give your business the best chance to stay afloat by making your website easily found online through a strategic SEO strategy.