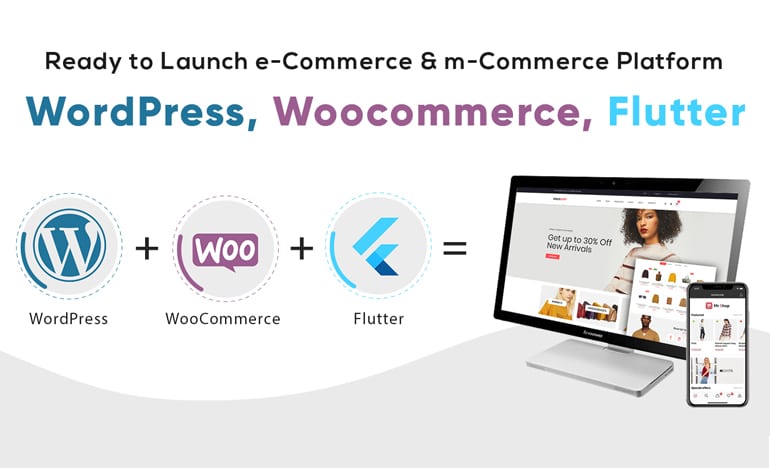 Readymade eCommerce mobile app for Android and iOS
WordPress is web publishing software that allows you to build your own website or blog. WordPress has grown to become one of the most popular web publishing platforms since its initial release in 2003. And it now powers more than 40% of the entire web, including everything from hobby blogs to some of the most popular websites on the internet. The latest version of WordPress is 5.7. Some of the known benefits of WordPress are
WordPress has several security plugins allowing you to improve the security of your website from hacks, and vulnerabilities.
Open source simply means that WordPress's codebase is public and any developer can go in and make changes.
With these various levels of owner access, manager access, editor access, and so on, you will be able to have a large number of people working on your website without ever compromising sensitive backend information.
Scale-up & expand your website with themes and plugins
WooCommerce is one of the most popular and widely used eCommerce solutions on the Internet today. It is a simple, robust, and feature-rich digital shopping solution built on the WordPress platform and built by the same team. WooCommerce is appropriate for someone who aims to sell goods or products online.
In short, WooCommerce is a WordPress eCommerce plugin. It simplifies the process of constructing and implementing an online store by providing appropriate levels of flexibility and a number of critical features such as inventory and tax management, secure payments, and shipping integration. The latest version of WooCommerce is 5.1.0. Below are some of the known benefits of WooCommerce:
You'll have access to a wide variety of Apps
Tracking and analysing behaviour of customers
You can get creative with customization options
It includes an Intuitive, in-built Analytics system
Flutter is a free and open-source software development kit built by Google. It is used for creating apps for Android, iOS, Linux, Windows, Mac, Google Fuchsia, and the web from a single codebase. Dart, a simple object-oriented programming language, is used to create Flutter apps. Flutter now allows you to create custom widgets. The latest version of Flutter is 2.0.1. Some of the known benefits of Flutter are:
When you use Flutter for mobile app development, you can speed up the process while saving money and time.
Flutter technology reduces app start up time, and apps designed with Flutter perform better.
Flutter includes a rendering engine, testing, and integration APIs.
There are fewer bugs in Flutter-developed applications because there is less coding.
Statistics of WooCommerce in Ecommerce Based on the reports
WooCommerce is used by 22% of the top 1 million ecommerce websites.
There are around 4,414,537 live websites that are currently running on WooCommerce.
Over 28.19% of all online stores are powered by WooCommerce.
The WooCommerce plugin is used by 93.7 percent of all WordPress ecommerce websites.
WooCommerce is the most prominent plugin/module on the internet, accounting for 68% of usage distribution.
What deliverables you will get from XcelTec?
Xceltec will help you in creating a customized app for your business requirements. We will analyse all your requirements, prepare a justified plan, and will create an application accordingly. We will be providing all those equipment, resources, and tools for building an enhanced application such as
Android or iOS app Development
Hosted secured server
Customizable application based on your requirements
Authorization and Authentication in application
Easy Monthly Installation facility
24/7 Support available
What does the Client have to provide?
An eCommerce application is full of products and an enhanced user interface, however, the client has to offer relevant products which they want to sell in this eCommerce App. The client also has to provide their
Contents
Category / Products / Images
Payment Gateway
Figuring out all these tasks, it will be easy for us to add make an application as per your requirements.
The time when you will migrate from a website to mobile, there will be huge benefits you will be receiving as business like the mobile application will be
Secure
User-Friendly
Drive higher engagement levels
Build a stronger brand value
Enhanced way to connect with your customers
Higher surge in your profits
Conclusion
This is the era of Mobile. The mobile users have eventually exceeded the number of desktop users! Businesses have been constantly looking over this change and have opted for mobile channels for targeting their audience and customers. However, doing this won't be enough. There will be a heavy need of optimizing their mobile applications and websites for improving the user experience & conversion rate for making the most out of this channel. Understanding the requirements of customers and creating an app with enhanced features and UI will help you to stand apart from your competitors. Our application has several advanced features that can offer a great experience to the users. If you still need to integrate several other features into the application, we will do it for you. You can simply contact us at
sales@xceltec.com
India – +91-987-979-9459
USA – +1-919-400-9200