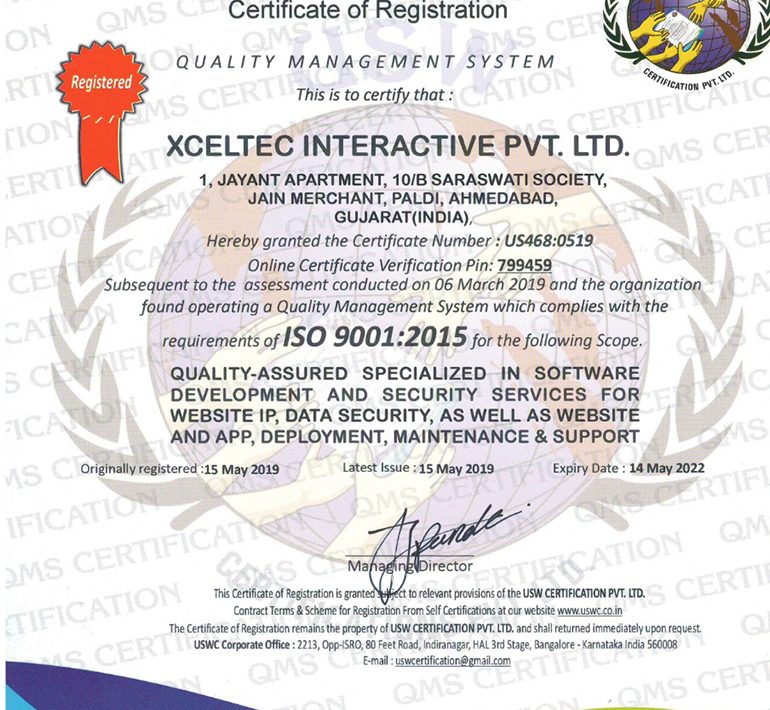 XcelTec – ISO 9001-2015 Certified Organization
The last year 2018 brings much good news for us. But this one we can't stop speaking about this that XcelTec Interactive Private Limited has been awarded ISO 9001:2015 Certification after clearing the final stage on 15-May-2019 coincidentally, a day after the mothers day. It's all the blessings from the parents.
This achievement gives us immense pleasure to all XcelTec techniques. At XcelTec, to keep the best quality in the services and solutions we offer, we have always followed a tight quality management system (QMS) to meet clients' desires and demands. ISO 9001 is certainly a seal of approval to the quality management system (QMS) at XcelTec by the Global Organization for Standardization and hike its bar to an international quality level.
ISO – International organization for standardization
ISO, or International Organization for Standardization, headquartered in Geneva, Switzerland is an independent, non-governmental international organization with representatives from various national standards organizations. The company assists worldwide proprietary, industrial and commercial standards.
Quality management system (QMS)
How XcelTec achieved the milestone?
Enlargement Of Live Streaming