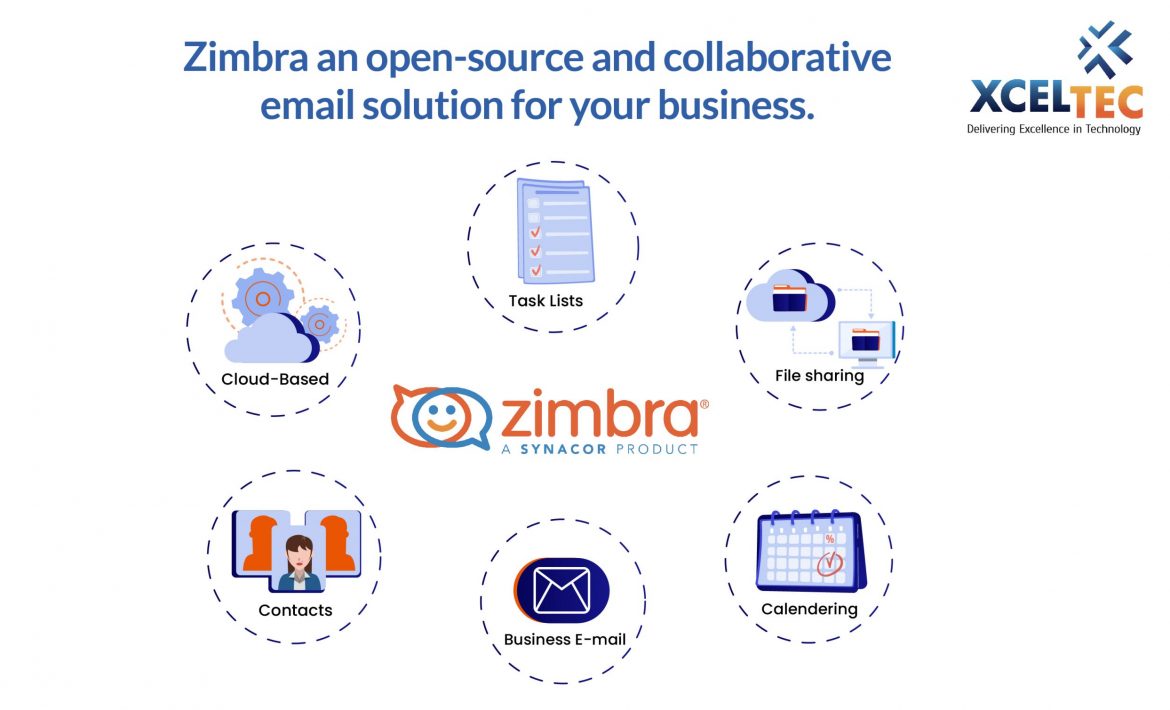 Zimbra Email Hosting: An Open-Source & Collaborative Hosting Solution For Your Business
In today's world businesses are heavily dependent on the interchange of emails for planning & carrying out daily activities. However, there are several companies where email is considered as a standard form of communication between team members for executing the projects. Communicating via email has become one of the quickest forms of communication & numerous companies have started offering email hosting services that can control email servers effectively.
What is Zimbra?

Zimbra is an open-source & free enterprise-class email & collaborative solution which includes great features like document management system, task management system, and many other search options. Both internal & external users are allowed to share or exchange mail documents, address books, calendars in a secure manner. It allows users to work virtually from any place using their mobile phones, tablet, or any other devices. Companies can easily maintain their database, email communication and, data storage through Zimbra.

 

Benefits of Zimbra
According to Wikipedia, Open-source software is a type of computer software in which source code is released under a license in which the copyright holder grants users the rights to use, study, change, and distribute the software to anyone and for any purpose. Each of their Zimbra open-source edition software, documentation, and innovation has been built, tested, utilized, and discussed openly by all the individuals who do participate in their Open Source Community. Zimbra Open Source Edition allows you to test, evaluate, deploy, and customize.
Security has always been a primary factor for almost all of the customers. There are several questions customers raise when concerned about the security – How is our data protected? What factors are considered for protecting our data? Well, Zimbra has enhanced privacy and protection features that allow users to stay safe and private. Zimbra has improved features like
●  SSL SNI for HTTPS
●  Two-factor authentication
●  S/MIME Digital signatures & encryption
●  Postscreen for Zimbra MTA boosts Email security
Management of emails is a bit tiring task. However, Zimbra has amazing features that grant you to manage your emails, calendars, task management system, and many other files at an ease. This will help you in saving a lot of time and energy.
Once in life, we have faced an issue where we failed to back up our data and ended up losing it. However, preparing a backup of your data allows you to make a duplicate copy which you can retrieve from that source anytime. The new feature of Zimbra realtime backup & restore engine backs up every single item on your server with split-second precision. Zimbra provides six restore features that are transparent to users, and are 100% OS architecture, and version independent.
How Xceltec has taken the benefits of Zimbra?
Xceltec has a professional and certified team for Zimbra. Our Zimbra team helps you in providing improved Zimbra email hosting & Solutions for your business. To maintain the perfect architecture of your business, Xceltec will help you from installation to deployment process and till the end. We provide all kind of installations such as single-server, multi-server, and NG-modules. Are you looking forward to shift to Zimbra? No worries! Our team at Xceltec will help you in migrating your complete email files & data to Zimbra. It is necessary to provide right guidance to the customers when struck on a process and we at Xceltec thrive to help them. For us, customers have always been our top priority.
Conclusion
I hope the above article has helped you in giving enough information about how Zimbra can be helpful for your business and how the contribution of Xceltec can provide a better solution. If you are looking forward to using Zimbra, we promise you in delivering excellent solutions for your business. You can contact us anytime for further discussion.