Grasping clients' issues fully to develop smart tech solutions sensibly would soon endow XcelTec Interactive as one of the Top App Development companies and services providers in Ahmedabad at GoodFirms.
Overview of the Company:
Established in 2016, XcelTec Interactive is an enterprise solution provider in software outsourcing and offshore development. Based in Ahmedabad, India, the organization mainly serves its clients from countries like the USA, Australia, and European regions. Moreover, the professionals at XcelTec Interactive hold expertise in Microsoft technology, E-Commerce, Mobile Commerce, Mobile Development, and Open Source Technology.
With a mantra of "Delivering Excellence in Technology," experts consistently convert clients' needs into innovative & worthwhile solutions. Furthermore, the foundation maintains transparency, satisfaction level & integrity by offering its valuable clients solutions built on the pillar of work ethics & endless innovation.
The company's mission is to be a progressing and emerging technology company with an ideal combination of cutting-edge tech, real-world sensibility, and create an urge to offer the customers with pioneering services. Moreover, XcelTec Interactive provides clients with uncomplicated, economical, technologically, and operationally efficient solutions that help their business develop meaningfully by accomplishing their goals.
GoodFirms' Research Process:
GoodFirms is a B2B evaluation and review platform that estimates the service-providers to give the perfect match to service-seekers by using its inclusive analysis process based on the three primary aspects, via Quality, Ability, and Reliability.
Same way, the GoodFirms unit also assessed XcelTec Interactive and found that with its outstanding services and solutions the firm gets entitled as the leading company in the digital marketing services.
Besides this, the researchers also concluded that XcelTec Interactive would soon get dubbed amongst the leading mobile app development and web development companies at Good Firms.
The excerpt from the assessment, as mentioned-below, proves XcelTec Interactive working standards.
Mobile App Development at XcelTec:
At XcelTec Interactive, the experts' group is well-versed with clients' issues and provides smart and robust app development solutions. XcelTec's specialists understand the clientele's aims and support them by smoothly and flawlessly executing their business processes.
The in-house app developers' team provides a verity of mobile enterprise solutions to support clients and make them stand at the top in the app industry. Besides this, the app developers remain up-to-date with the prevailing market changes to effectively strategize enterprise mobility solutions.
Furthermore, the expert app developers team strategically deploys iOS and Android app solutions to the clients with maximum satisfaction and helps them increase their business sales. Thus, smartly coding the right application, process, and workflow without bogging down in complex and resource-intensive coding and testing makes XcelTec Interactive as one of the leading mobile app development companies globally.
The review displayed below proves the potential of the app developers at Xcel Interactive.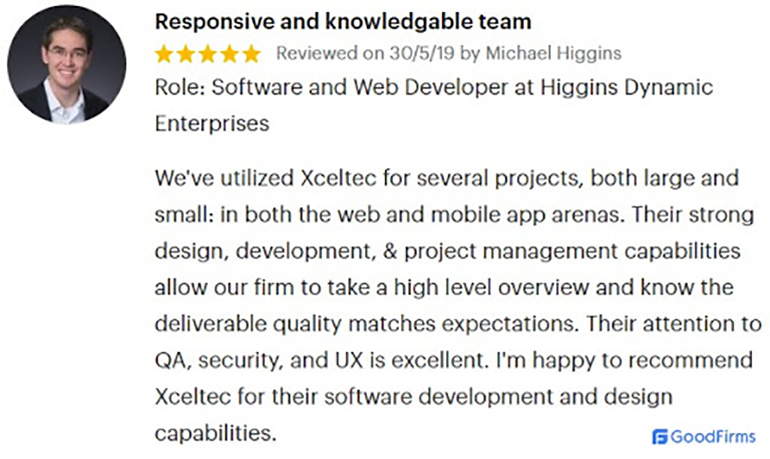 Digital Marketing at XcelTec:
At XcelTec Interactive, the expert digital marketers provide full-suite digital marketing services by designing beautiful digital experiences for all brands and companies. The team equips clients with a strategic approach that drives proposed traffic through several coordinated online marketing operations.
Moreover, professional marketers at XcelTec endeavor to produce digital solutions with quality by devising digital marketing campaigns with authenticated, mature & proven strategies, thereby guaranteeing clients to achieve online visibility meeting their business purposes.
Moreover, the team's overall objective is to quickly obtain a mixture of digital marketing techniques & form a robust digital marketing strategy that works solely for the client's online business proffering them with the best results. Thus, helping customers enrich their online presence and boost user visits with an urge to take a call to action bequeath XcelTec Interactive as one of the top digital marketing agencies in New York at GoodFirms.
Web Development at XcelTec:
At XcelTec Interactive, the group handles all content and website needs with an easy-to-use back-end solution. The developers produce CMS websites that are easy to track, update with better and basic control panels. This ultimately amplifies clients' business productivity; and, most importantly, does not require modification.
At XcelTec, the expert web developers' team also offer efficacious and effectual eCommerce web development services, plug-in & module development solutions for startups and medium-sized businesses. Holding a passion for web designing and development, the skilled and creative developers remain abreast of the current industry trends to present prolific results. With the indefinable experience, the developers provide custom eCommerce website development to promote clients' brands while bringing success as well as online sales that would soon endow the firm as one of the top web development companies.
About GoodFirms
Washington, D.C. based GoodFirms is maverick B2B research and Reviews Company that helps in finding mobile app development, digital marketing, and web development agencies rendering the best services to its customers. GoodFirms' far-reaching research process ranks the companies, boosts their online reputation and helps service explorers pick the right technology partner that meets their business needs.
Want to develop a custom web & mobile app or wants On-Demand Apps for startups? Contact us