Online Grocery Shopping App
Are you looking to launch your own grocery shop or online grocery delivery mobile app? XcelTec's expert team of E-commerce development will help you to build a flutter grocery shopping app in just days. We offer an amazing grocery store software & grocery shopping app at just $3999.
Flutter online grocery app offers amazing features to put up a powerful online ordering system or a complete solution for your grocery business. Grocery app enhances online grocery stuff shopping experience for your customers with your mobile grocery app. This flutter grocery app is a complete solution for the grocery business. It has all the features of online grocery purchases. So, what are you waiting for? Start your own online grocery business with your own grocery app.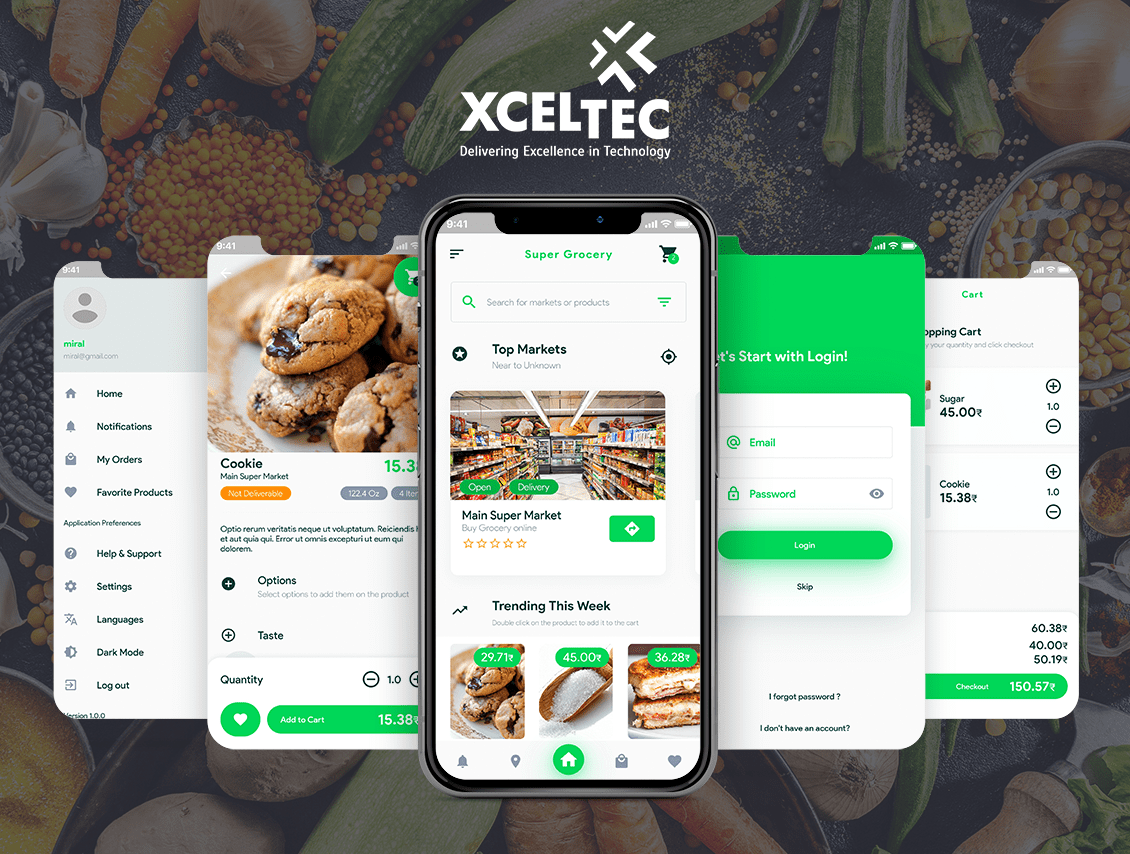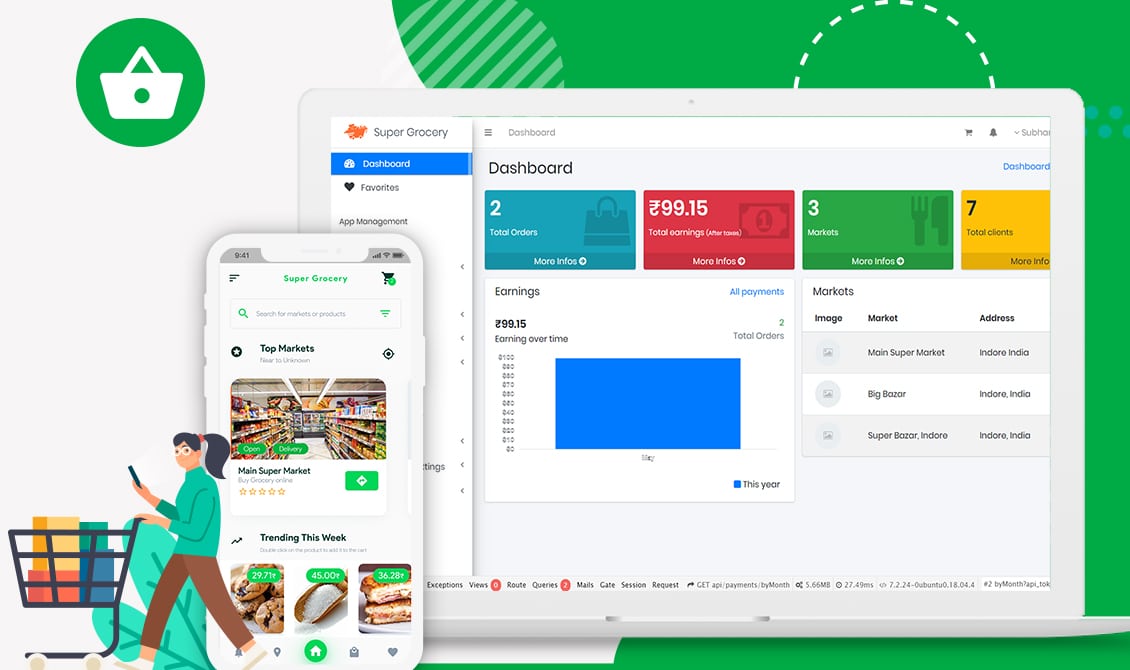 What You Will Get From XcelTec?
Complete grocery shopping software like Admin Panel, and Mobile Application for Android and iOS.
Fast and beautiful mobile app
Admin dashboard for manage the product
Created with: Flutter, PHP, Laravel, Javascripts
Easy to install and delivery your own app
Saving your 1000+ hours of development and a great way to create your project
Build your separate app and delivery to both App Store & Google Play
Run effortlessly and well tested on both iOS & Android from our QA team.


What is Our Online Grocery Delivery App?
We build an online grocery app that helps you to build your own grocery mobile app and make an online grocery business successful. This application helps you to give a delightful online grocery shopping experience to your customer. An app developed with the latest technology & attractive UI gives an amazing user experience. Our online grocery app supports multi-languages so you can build your own app n your desired language. Our grocery shopping app is a single store application so you can list out your own products, categorized based on product categories, stripe payment, map explorer, and order management.


Why Choose XcelTec For Building Your Own Online Grocery App?
XcelTec provides end to end 
E-commerce solutions
 from a mobile-friendly online store website to a mobile application. We use the latest technologies like Flutter, PHP, Laravel, etc… These are the most popular and optimized coding languages to build your own mobile app from scratch. We have an expert team for creative designers and developers who provide end to end solutions for e-commerce and provide 24/7 supports.
Here is The Admin Features of Our Online Grocery Store:
Admin dashboards and statistics:
With the dashboard, users can see total orders, total earrings, markets & total: clients.
Multi Roles and Permission:
With our complete role management module, you can assign the roles and permissions to your users. (Admin, Grocery Shop Manager, Client,).
Stripe Payments Gateway:
Stripe payment gateway accepts credit card payments (in person or online) by transferring money between your merchant account.
Multi-language Admin panel:
Supports Multilanguage so the user can set their admin panel in their desired language. (English, French, Portuguese, Spanish, Dutch…).
Social media Authentication:
Users can log in with their social media accounts like Facebook, Twitter & Google.
Medias & File Manager Integrated:
User can integrate their media galleries and files.
Start Your Own Online Grocery Shopping Business
We offer you a complete online grocery shopping app for online grocery business at a reasonable price. Selling products online has become essential. Many people shop on their phones – the most valuable real estate is in their hands. XcelTec is your one-stop solution for all your E-Commerce development needs. Contact Us Now. Let's discuss your requirements.
If you would like to build your Grocery store app on other technologies or do you have any specific customization then you can check out App Development Services and process.
* Only one Payment Gateway is included in this package. An extra payment gateway can be added with additional charges.
*Hosting, All Third Party Services & Customization charges will be extra.
*If you choose to develop a customized mobile app, we can do feature enhancement, Customization, and design according to your idea and make it live on Google Play & iTunes. This would charge extra.
*A complete Online Grocery App starting at $3999
Click Here to Schedule

Live Demo